CertPREP Courseware: CompTIA Cybersecurity Analyst (CySA+) CS0-002 - Instructor-Led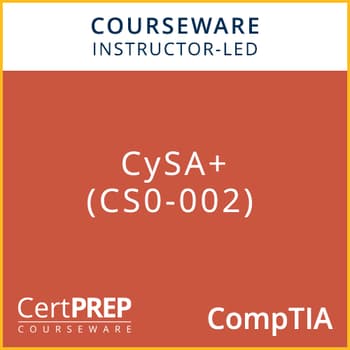 🔍 Click to enlarge photo
Summary
Please select required options above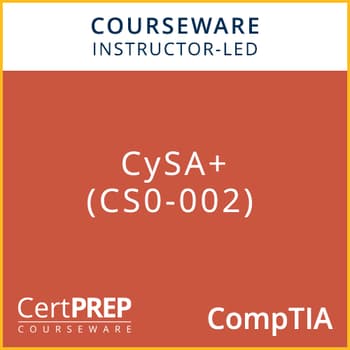 🔍 Click to enlarge photo
CertPREP Courseware: CompTIA Cybersecurity Analyst (CySA+) CS0-002 - Instructor-Led
Please select required options above
Course description:
The CompTIA Cybersecurity Analyst (CySA+) CS0-002 course shares preparation hints and test-taking tips, helps you identify areas of weakness and improves both your conceptual knowledge and hands-on skills, including threat and vulnerability management; software and system security; security operations and monitoring; incident response; and compliance and assessment.
The goal of this course is to provide you with all the tools you need to prepare for the CompTIA Cybersecurity Analyst (CySA+) CS0-002 exam — including text explanations, key tips, key terms, self-assessment questions, and practice exams— to increase your chances of passing the exam on your first try.
Duration:
5 days of training
Audience:
IT security analysts, vulnerability analysts and threat analysts who have the knowledge and skills required to leverage intelligence and threat detection techniques; analyze and interpret data, identify and address vulnerabilities, suggest preventative measures, and effectively respond to and recover from incidents.
Prerequisites:
Four years of hands-on information security or related experience
If using this course for an additional certification, or to keep skill sharp, it provides a wide review of many non-vendor specific skills.
Network+ or Security+ certification.
Course objectives:
Upon successful completion of this course, students should be able to:
Describe vulnerability management activities
Implement controls to mitigate attacks and software vulnerabilities
Understand security solutions for infrastructure management
Explain software and hardware assurance best practices
Understand and apply the appropriate incident response
Apply security concepts in support of organizational risk mitigation
Required course materials
Pearson CertPREP COMPTIA Cybersecurity Analyst (CySA+) CS0-002 Courseware
Domain 1: Threat and Vulnerability Management
Lesson 1: The Importance of Threat Data and Intelligence
Lesson 2: Utilizing Threat Intelligence to Support Organizational Security
Lesson 3: Vulnerability Management Activities
Lesson 4: Analyzing Assessment Output
Lesson 5: Threats and Vulnerabilities Associated with Specialized Technology
Lesson 6: Threats and Vulnerabilities Associated with Operating in the Cloud
Lesson 7: Implementing Controls to Mitigate Attack sand Software Vulnerabilities
Domain 2: Software and Systems Security
Lesson 8: Security Solutions for Infrastructure Management
Lesson 9: Software Assurance Best Practices
Lesson 10: Hardware Assurance Best Practices
Domain 3: Security Operation and Monitoring
Lesson 11: Analyzing Data as Part of Security Monitoring Activities
Lesson 12: Implementing Configuration Changes to Existing Controls to Improve Security
Lesson 13: The Importance of Proactive Threat Hunting
Lesson 14: Automation Concepts and Technologies
Domain 4: Incident Response
Lesson 15: The Incident Response Process
Lesson 16: Applying the Appropriate Incident Response Procedure
Lesson 17: Analyzing Potential Indicators of Compromise
Lesson 18: Utilizing Basic Digital Forensics Techniques
Domain 5: Compliance and Assessment
Lesson 19: The Importance of Data Privacy and Protection
Lesson 20: Applying Security Concepts in Support of Organizational Risk Mitigation
Lesson 21: The Importance of Frameworks, Policies, Procedures, and Controls
Lesson 22: Final Preparation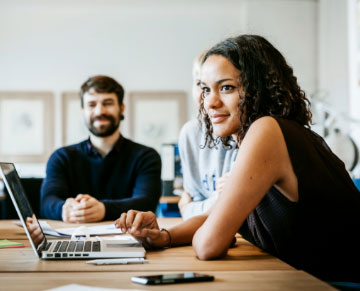 COURSEWARE
The ultimate teaching tool
CertPREP courseware is a comprehensive learning toolkit that saves trainers time and money. Everything you need to teach the class is at your fingertips — texts, practice labs, videos, practice tests and quizzes. By integrating materials together into one consistent interface, you can deliver the best IT certification exam prep experience on the market.