CertPREP Courseware: CompTIA Security+ (SY0-601) - Instructor-Led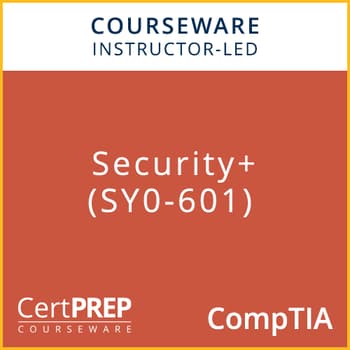 🔍 Click to enlarge photo
Summary
Please select required options above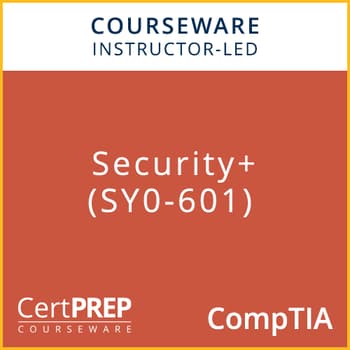 🔍 Click to enlarge photo
CertPREP Courseware: CompTIA Security+ (SY0-601) - Instructor-Led
Please select required options above
Course  description:
The CompTIA Security+ course is a great first step for anyone who wants to become certified in a basic vendor-neutral security technology. It covers the industry-standard technologies and methodologies including basic level computer knowledge, networking, and organizational security.
The goal of this course is to provide you with all the tools you need to prepare for the SYO-601 version of the CompTIA Security+ certification exam — including text explanations, self-assessment questions, and two practice exams— to increase your chances of passing the exam on your first try.
Course contents:
CompTIA SY0-601 lessons
Practice tests with Practice and Certification modes
Lab suite for CompTIA SY0-601
Duration
5 days of instructor-led training
Audience
IT professionals with an understanding of computer topics inclusive of installing operating systems and applications, networking, and an interest in how to secure those technologies while protecting against possible exploits and attacks.
Prerequisites
2+ years of IT administration experience with an emphasis on security
CompTIA Network+ certification is recommended
Knowledge about configuring IPs and VLANs
Course objectives
Upon successful completion of this course, students should be able to:
Explain the different threat actors, vectors and intelligence sources associated with application and network attacks
Summarize authentication and authorization design concepts used in deployment and automation
Implement a variety of security solutions when given scenarios
Utilize appropriate data sources to support an investigation and apply mitigation techniques to secure the environment
Compare and contrast various controls and frameworks that impact organizational security
Required course materials
Pearson  CertPREP  CompTIA Security+ Courseware
Part 1: Threats, Attacks, and Vulnerabilities
Lesson 1: Comparing and Contrasting Different Types of Social Engineering Techniques
Lesson 2: Analyzing Potential Indicators to Determine the Type of Attack
Lesson 3: Analyzing Potential Indicators Associated with Application Attacks
Lesson 4: Analyzing Potential Indicators Associated with Network Attacks
Lesson 5: Understanding Different Threat Actors, Vectors and Intelligence Sources
Lesson 6: Understanding the Security Concerns Associated with Various types of Vulnerabilities
Lesson 7: Summarizing the Techniques Used in Security Assessments
Lesson 8: Understanding the Techniques Used in Penetration Testing
Part 2: Architecture and Design
Lesson 9: Understanding the Importance of Security Concepts in an Enterprise Environment
Lesson 10: Summarizing Virtualization and Cloud Computing Concepts
Lesson 11: Summarizing Secure Application Development, Deployment, and Automation Concepts
Lesson 12: Summarizing Authentication and Authorization Design Concepts
Lesson 13: Implementing Cybersecurity Resilience
Lesson 14: Understanding the Security Implications of Embedded and Specialized Systems
Lesson 15: Understanding the Importance of Physical Security Controls
Lesson 16: Summarizing the Basics of Cryptographic Concepts
Part 3: Implementation
Lesson 17: Implementing Secure Protocols
Lesson 18: Implementing Host or Application Security Solutions
Lesson 19: Implementing Secure Network Designs
Lesson 20: Installing and Configuring Wireless Security Settings
Lesson 21: Implementing Secure Mobile Solutions
Lesson 22: Applying Cybersecurity Solutions to the Cloud
Lesson 23: Implementing Identity and Account Management Controls
Lesson 24: Implementing Authentications and Authorization Solutions
Lesson 25: Implementing Public Key Infrastructure
Part 4: Operations and Incident Response
Lesson 26: Using the Appropriate Tools to Assess Organizational Security
Lesson 27: Summarizing the Importance of Policies, Processes, and Procedures for Incident Response
Lesson 28: Using Appropriate Data Sources to Support an Investigation
Lesson 29: Applying Mitigation Techniques or Controls to Secure an Environment
Lesson 30: Understanding the Key Aspects of Digital Forensics
Part 5: Governance, Risk, and Compliance
Lesson 31: Comparing and Contrasting the Various Types of Controls
Lesson 32: Understanding the Importance of Applicable Regulations, Standards, or Frameworks That Impact Organizational Security Posture
Lesson 33: Understanding the Importance of Policies to Organizational Security
Lesson 34: Summarizing Risk Management Processes and Concepts
Lesson 35: Understanding Privacy and Sensitive Data Concepts in Relation to Security
Student access for each license to the course content and resources for 6 months including:
All text, video, and end of lesson questions
Lab content (where available)
Practice Test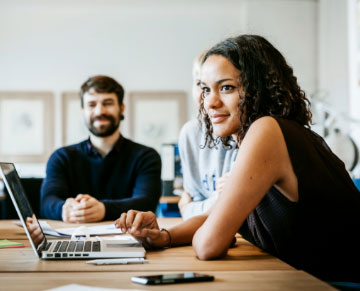 COURSEWARE
The ultimate teaching tool
CertPREP courseware is a comprehensive learning toolkit that saves trainers time and money. Everything you need to teach the class is at your fingertips — texts, practice labs, videos, practice tests and quizzes. By integrating materials together into one consistent interface, you can deliver the best IT certification exam prep experience on the market.