CCNP and CCIE Enterprise Core & CCNP Enterprise Advanced Routing Portable Command Guide: All ENCOR (350-401) and ENARSI (300-410) Commands in One Compact, Portable Resource, 2nd Edition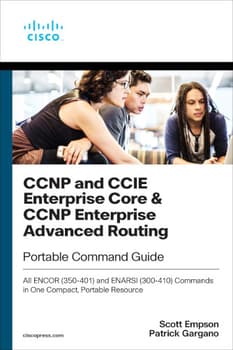 🔍 Click to enlarge photo
Please select required options above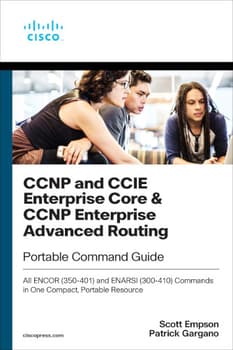 🔍 Click to enlarge photo
CCNP and CCIE Enterprise Core & CCNP Enterprise Advanced Routing Portable Command Guide: All ENCOR (350-401) and ENARSI (300-410) Commands in One Compact, Portable Resource, 2nd Edition
Please select required options above
All ENCOR (350-401) and ENARSI (300-410) Commands in One Compact, Portable Resource
Use this fully updated quick reference resource to help memorize commands and concepts as you earn your CCNP or CCIE certification. Filled with valuable, easy-to-access information, it's portable enough to use anywhere.
This guide summarizes all Cisco IOS software commands, keywords, command arguments, and associated prompts associated with the CCNP and CCIE Enterprise Core (ENCOR 350-401) and CCNP Enterprise Advanced Routing and Services (ENARSI 300-410) certification exams. Tips and examples help you apply commands to real-world scenarios, and configuration samples show their use in network designs.
Coverage includes:
Layer 2: VLANs, STP, Inter-VLAN Routing
Layer 3: EIGRP, OSPF, Redistribution, Path Control, BGP
Infrastructure Services and Management
Infrastructure Security
Network Assurance
Wireless Security and Troubleshooting
Overlays and Virtualization
This Portable Command Guide provides:
Logical how-to topic groupings for a one-stop resource
Great for review before your ENCOR 350-401 and ENARSI 300-410 certification exams
Compact size makes it easy to carry with you wherever you go
"Create Your Own Journal" section with blank, lined pages enables you to personalize the book for your needs
This book is part of the Cisco Press Certification Self-Study Product Family, which offers readers a self-paced study routine for Cisco certification exams. Titles in the Cisco Press Certification Self-Study Product Family are part of a recommended learning program from Cisco that includes simulation and hands-on training from authorized Cisco Learning Partners and self-study products from Cisco Press.
Digital access to the title until it is retired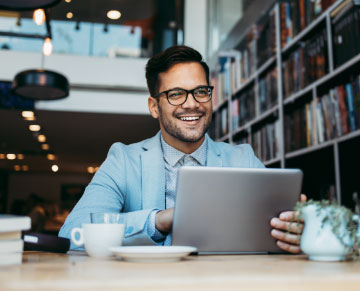 BOOKS
A trusted source for learning
Every book in our catalog comes from trusted leaders in education including Pearson, McGrawHill, and Microsoft Press. They offer a flexible, accessible solution for learning and exam prep. Written by industry experts and downloadable to any device, books are the perfect addition to courseware offerings. You can also market books as supplemental training materials for certification preparation.