CertPREP Courseware: Cisco Certified Network Associate (200-301) - Instructor-Led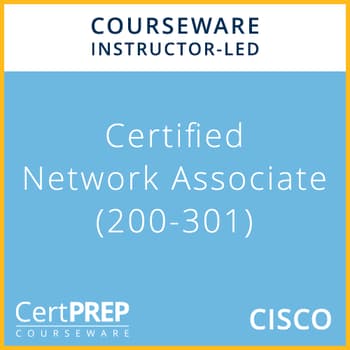 🔍 Click to enlarge photo
Summary
Please select required options above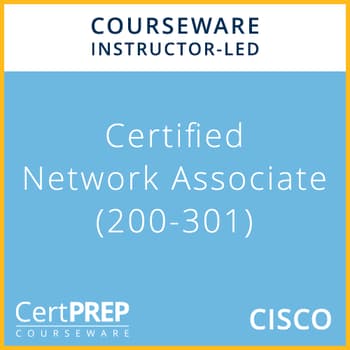 🔍 Click to enlarge photo
CertPREP Courseware: Cisco Certified Network Associate (200-301) - Instructor-Led
Please select required options above
Cisco is a world-wide leader in IT, networking, and security solutions. Achieving the Cisco Certified Network Associate Certification (CCNA) is a valuable first step toward a career in IT. To gain CCNA certification, you must pass one exam that covers a wide range of IT fundamentals and knowledge bases including the latest networking technologies, software development skills, and job roles. CCNA certification gives you the foundation to build the career you want.
The goal of this course is to provide you with all the tools you need to prepare for the Cisco Certified Network Associate (200-301 CCNA) exam — including text explanations, video demos, lab activities, self-assessment questions, and a practice exam — to increase your chances of passing the exam on your first try.
Duration:
Course components:
Two volumes: Volume 1 has 29 lessons; Volume 2 has 20 lessons
Video learning
MeasureUp Practice Test for Cisco CCNA 200-301. Practice Mode with remediation and Certification mode to simulate the test day experience.
Labs
Prerequisites:
Recommended 1 year experience implementing and administering Cisco solutions
Basic knowledge of course objectives
Course objectives:
Upon successful completion of this course, students should demonstrate knowledge and proficiency in the following areas:
Networking fundamentals
Ethernet LANs
VLANs and STP
IPv4 addressing
IPv4 routing
OSPF
IPv6
Wireless LANs
Required course materials:
CertPREP Courseware Cisco Certified Network Associate (200-301)
Training outline 
Volume 1
Lesson 1
Perspectives on Networking
TCP/IP Networking Model
Data Encapsulation Terminology
Lesson 2
An Overview of LANs
Building Physical Ethernet LANs with UTP
Building Physical Ethernet LANs with Fiber
Sending Data in Ethernet Networks
Lesson 3
Wide-Area Networks
IP Routing
Other Network Layer Features
Lesson 4
Accessing the Cisco Catalyst Switch CLI
Configuring Cisco IOS Software
Lesson 5
LAN Switching Concepts
Verifying and Analyzing Ethernet Switching
Lesson 6
Securing the Switch CLI
Enabling IPv4 for Remote Access
Miscellaneous Settings Useful in the Lab
Lesson 7
Configuring Switch Interfaces
Analyzing Switch Interface Status and Statistics
Lesson 8
Virtual LAN Concepts
VLAN and VLAN Trunking Configuration and Verification
Troubleshooting VLANs and VLAN Trunks
Lesson 9
STP and RSTP Basics
Details Specific to STP (and Not RSTP)
Rapid STP Concepts
Lesson 10
Understanding RSTP Through Configuration
Configuring Layer 2 EtherChannel
Lesson 11
Introduction to Subnetting
Analyze Subnetting and Addressing Needs
Make Design Choices
Plan the Implementation
Lesson 12
Classful Network Concepts
Practice with Classful Networks
Lesson 13
Subnet Mask Conversion
Identifying Subnet Design Choices Using Masks
Lesson 14
Defining a Subnet
Analyzing Existing Subnets: Binary
Analyzing Existing Subnets: Decimal
Practice Analyzing Existing Subnets
Lesson 15
Installing Cisco Routers
Enabling IPv4 Support on Cisco Router Interfaces
Lesson 16
IP Routing
Configuring IP Addresses and Connected Routes
Configuring Static Routes
IP Forwarding with the Longest Prefix Match
Lesson 17
VLAN Routing with Router 802.1Q Trunks
VLAN Routing with Layer 3 Switch SVIs
VLAN Routing with Layer 3 Switch Routed Ports
Lesson 18
Problem Isolation Using the ping Command
Problem Isolation Using the traceroute Command
Telnet and SSH
Lesson 19
Comparing Dynamic Routing Protocol Features
OSPF Concepts and Operation
OSPF Areas and LSAs
Lesson 20
Implementing Single-Area OSPFv2
Using OSPFv2 Interface Subcommands
Additional OSPFv2 Features
Lesson 21
OSPF Network Types
OSPF Neighbor Relationships
Lesson 22
Introduction to IPv6
IPv6 Addressing Formats and Conventions
Lesson 23
Global Unicast Addressing Concepts
Unique Local Unicast Addresses
Lesson 24
Implementing Unicast IPv6 Addresses on Routers
Special Addresses Used by Routers
Lesson 25
Connected and Local IPv6 Routes
Static IPv6 Routes
The Neighbor Discovery Protocol
Lesson 26
Comparing Wired and Wireless Networks
Wireless LAN Topologies
Other Wireless Topologies
RF Overview
Lesson 27
Autonomous AP Architecture
Cloud-based AP Architecture
Split-MAC Architectures
Comparing Wireless LAN Controller Deployments
Lesson 28
Anatomy of a Secure Connection
Wireless Client Authentication Methods
Wireless Privacy and Integrity Methods
Lesson 29
Connecting a Cisco AP
Accessing a Cisco WLC
Connecting a Cisco WLC
Configuring a WLAN
Volume 2
Lesson 1
TCP/IP Layer 4 Protocols: TCP and UDP
TCP/IP Applications
Lesson 2
IPv4 Access Control List Basics
Standard Numbered IPv4 ACLs
Practice Applying Standard IP ACLs
Lesson 3
Extended Numbered IP Access Control Lists
Named ACLs and ACL Editing
Lesson 4
Security Terminology
Common Security Threats
Controlling and Monitoring User Access
Developing a Security Program to Educate Users
Lesson 5
Securing IOS Passwords
Firewalls and Intrusion Prevention Systems
Lesson 6
Port Security Concepts and Configuration
Firewalls and Intrusion Prevention Systems
Lesson 7
Dynamic Host Configuration Protocol
Identifying Host IPv4 Settings
Lesson 8
DHCP Snooping
Dynamic ARP Inspection
Lesson 9
System Message Logging (Syslog)
Network Time Protocol (NTP)
Analyzing Topology Using CDP and LLDP
Lesson 10
Perspectives on IPv4 Address Scalability
Network Address Translation Concepts
NAT Configuration and Troubleshooting
Lesson 11
Introduction to QoS
Classification and Marking
Queuing
Shaping and Policing
Congestion Avoidance
Lesson 12
First Hop Redundancy Protocol
Simple Network Management Protocol
FTP and TFTP
Lesson 13
Analyzing Campus LAN Topologies
Small Office/Home Office
Power over Ethernet (PoE)
Lesson 14
Metro Ethernet
Multiprotocol Label Switching (MPLS)
Internet VPNs
Lesson 15
Server Virtualization
Cloud Computing Services
WAN Traffic Paths to Reach Cloud Services
Lesson 16
SDN and Controller-Based Networks
Examples of Network Programmability and SDN
Comparing Traditional Versus Controller-Based Networks
Lesson 17
SDA Fabric, Underlay, and Overlay
DNA Center and SDA Operation
DNA Center as a Network Management Platform
Lesson 18
REST-Based APIs
Data Serialization and JSON
Lesson 19
Device Configuration Challenges and Solutions
Ansible, Puppet, and Chef Basics
Lesson 20
Advice About the Exam Event
Student access for each license to the course content and resources for 6 months including:
All text, video, and end of lesson questions
Lab content (where available)
Practice Test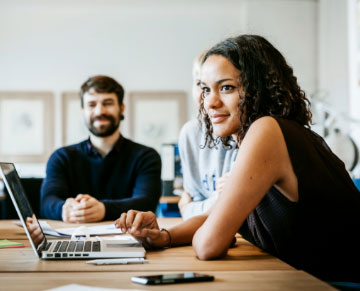 COURSEWARE
The ultimate teaching tool
CertPREP courseware is a comprehensive learning toolkit that saves trainers time and money. Everything you need to teach the class is at your fingertips — texts, practice labs, videos, practice tests and quizzes. By integrating materials together into one consistent interface, you can deliver the best IT certification exam prep experience on the market.