CertPREP Courseware: ISC2 CISSP Certified Information Systems Security Professional - Instructor-Led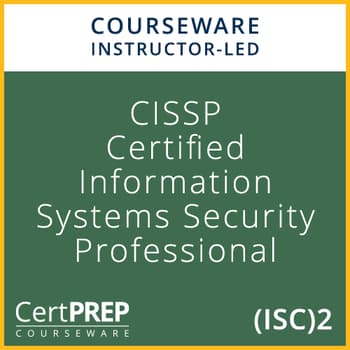 🔍 Click to enlarge photo
Summary
Please select required options above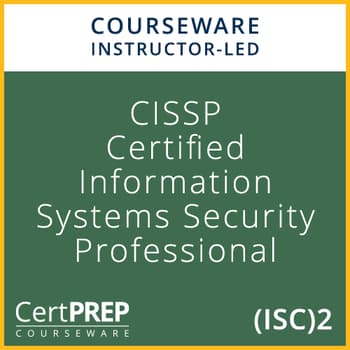 🔍 Click to enlarge photo
CertPREP Courseware: ISC2 CISSP Certified Information Systems Security Professional - Instructor-Led
Please select required options above
Course description:
The Certified Information Systems Security Professional (CISSP) course is a perfect companion to preparing for the CISSP Exam. It focuses specifically on the objectives for the CISSP exam introduces by ISC2 in May 2021. The course will review asset retention, secure provisioning, crypto attacks, machine learning tools, threat hunting, risk-based access control, zero trust, SAML, SOAR, CASB, securing microservices, containers, managed services, and many other topics, while helping you identify areas of weakness and improving your conceptual knowledge and hands-on skills.
The goal of this course is to provide you with all the tools you need to prepare for the CISSP Exam — including preparation hints, test-taking tips, time-saving strategies, self-assessment questions, and practice exams — to increase your chances of passing the exam on your first try.
Duration: 5 days of training
Audience:
IT security professionals and security leaders who are interested in seeking certification or who need to maintain their certification.
Prerequisites:
1-2 years professional experience with IT security
Experience working with IT security
Fluency in security procedures such as business continuity planning, disaster planning, and risk assessment
Course objectives
Upon successful completion of this course, students should be able to:
Understand security and risk management
Classify information and assets
Review security architecture and engineering for vulnerabilities and design flaws
Improve communication and network security architectures, components, and channels
Strengthen identity and access management (IAM) controls, services, and provisioning
Enhance security assessment and testing designs to collect and process data to support audits
Manage security operations
Required course materials: Pearson CertPREP CISSP Exam Cram Courseware
Lesson 1: The CISSP Certification Exam
Assessing exam requirements
Determining whether you're ready for the exam
Using practice questions
Using your time wisely
Lesson 2: Understanding Asset Security
Proper methods for data destruction
Development of documents that can aid in compliance with local, state, and federal laws
The implementation of encryption and its use for the protection of data
How to use data security control
Lesson 3: Security and Risk Management
Calculations used for risk management
Approved approaches to good security management
How to perform qualitative risk analysis
How to perform quantitative risk analysis
How to perform hybrid risk analysis
Good resource protection
The roles of security policies, procedures, guidelines and baselines
Proper data classification
Proper implementation of security roles
How to perform risk calculation
Lesson 4: Security Architecture and Engineering
How to select controls based on system security requirements
Use of confidentiality models such as Bell-LaPadula
How to identify integrity models such as Biba and Clark-Wilson
Common flaws and security issues associated with security architecture designs
Cryptography and how it is used to protect sensitive information
The need for and placement of physical security control
Lesson 5: Communications and Network Security
Secure network design
The difference between LAN and WAN topologies
The OSI model and its layers
The four layers of the TCP/IP stack
Convergence protocol
Lesson 6: Identity and Access Management
Identity and access management
How to control physical and logical control to assets
Methods to integrate identity as a third-party service
Difference between discretionary, mandatory attribute-based and role-based access control
How to manage the identity and access provisioning lifecycle
How to differentiate authorization types
Lesson 7: Security Assessment and Testing
Security assessment and testing
Assessment and test strategies
How to identify attack methodologies
Automated and manual testing techniques
Examples and penetration test methodologies
Log reviews
Disaster recovery and business continuity
How to perform security assessment and penetration tests
Security metrics
Incident response techniques
Lesson 8: Security Operations
Disaster recovery processes and plans
How to understand and support investigations
Foundational security concepts
Different types of RAID
How to implement disaster recovery strategies and recovery strategies
How to participate in business continuity planning and exercises
Perimeter and internal physical controls
How to implement disaster recovery processes
Auditing and monitoring
Lesson 9: Software Development Security
The role of security in the software development lifecycle
Database design
The Capability Maturity Model
The steps of the development lifecycle
How to determine the effectiveness of software security
The impact of acquired software security
Different types of application design techniques
The role of change management
The primary types of database
Student access for each license to the course content and resources for 6 months including:
All text, video, and end of lesson questions
Lab content (where available)
Practice Test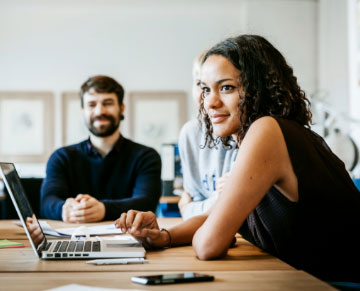 COURSEWARE
The ultimate teaching tool
CertPREP courseware is a comprehensive learning toolkit that saves trainers time and money. Everything you need to teach the class is at your fingertips — texts, practice labs, videos, practice tests and quizzes. By integrating materials together into one consistent interface, you can deliver the best IT certification exam prep experience on the market.