CertPREP Courseware: IT Specialist Cloud Computing - Instructor-Led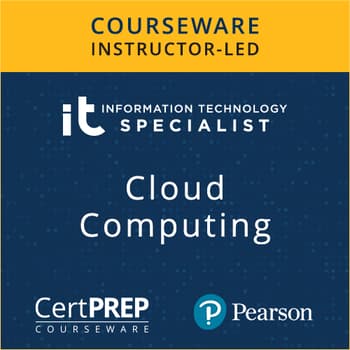 🔍 Click to enlarge photo
Summary
Please select required options above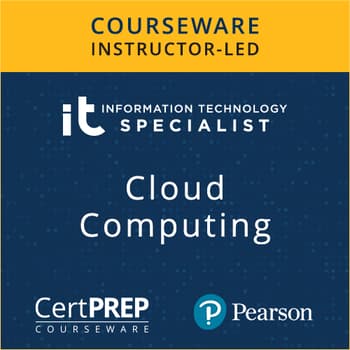 🔍 Click to enlarge photo
CertPREP Courseware: IT Specialist Cloud Computing - Instructor-Led
Please select required options above
The Cloud Computing course covers the entire field of cloud computing. From determining if a cloud solution is appropriate for your organization, to developing cloud infrastructure, implementing the cloud development life cycle, managing cloud operations, and understanding cloud governance. The course is designed specifically to train you for the IT Specialist Cloud Computing Certification.
An IT Specialist Cloud Computing Certification is proof or your ability to understand technical cloud concepts and develop, deploy and manage cloud operations. The objective of the course is to provide all the tools you need — including text explanations, videos, figures & tables, quizzes, practice labs, and a practice exam — to prepare for the Cloud Computing exam and pass it on the first try.
Duration:
3 days of training
Prerequisites:
None
Course objectives:
Upon successful completion of this course, students should be able to:  
Examine the fundamental concepts of cloud computing.
Plan a cloud computing project.
Select cloud solutions.
Define cloud solution requirements.
Determine hardware and storage requirements for a cloud project.
Design cloud apps and solutions.
Develop and test cloud apps.
Integrate and deploy a cloud solution.
Manage cloud operations.
Evaluate cloud governance.
Required course materials:
Pearson CertPREP IT Specialist: Cloud Computing
Lesson 1: Examining Cloud Computing Fundamentals
Topic A: Cloud Computing Concepts
Topic B: Describe Cloud Service Models
Lesson 2: Planning a Cloud Computing Project
Topic A: Identify the Project Approach and Team
Topic B: Establish Key Criteria
Topic C: Evaluate Project Requirements
Topic D: Evaluate and Recommend Cloud Solutions
Lesson 3: Selecting Cloud Solutions
Topic A: Evaluate Cloud Models
Topic B: Create a Process Flow Diagram
Lesson 4: Determining Hardware and Storage Requirements
Topic A: Determine Hardware and Network Requirements
Topic B: Determine Storage and Database Requirements
Topic C: Create Virtual Machines
Lesson 5: Designing Cloud Apps and Solutions
Topic A: Determine a Design Approach
Topic B: Determine Approach for Connecting Solution Components
Lesson 6: Developing and Testing Cloud Apps
Topic A: Cloud Application Development and Operations
Topic B: Configure, Deploy, and Manage the Development Environment
Topic C: Perform Testing
Lesson 7: Integrating and Deploying a Cloud Solution
Topic A: Plan App Integration
Topic B: Evaluate and Plan App Containerization
Topic C: Deploy Apps
Lesson 8: Managing Cloud Operations
Topic A: Manage Cloud Solutions to Address Demand and Costs
Topic B: Create a Business Continuity and Disaster Recovery Policy
Topic C: Support and Monitor Cloud Solutions
Lesson 9: Evaluating Cloud Governance
Topic A: Identify Why Cloud Governance Is Needed
Topic B: Promote Security
Topic C: Promote Compliance through Practices and Processes
Topic D: Maintain Governance over Time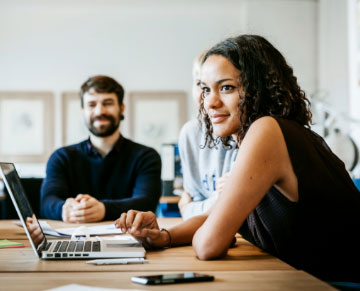 COURSEWARE
The ultimate teaching tool
CertPREP courseware is a comprehensive learning toolkit that saves trainers time and money. Everything you need to teach the class is at your fingertips — texts, practice labs, videos, practice tests and quizzes. By integrating materials together into one consistent interface, you can deliver the best IT certification exam prep experience on the market.