CompTIA Network+ N10-007 Complete Video Course
Please select required options above
CompTIA Network+ N10-007 Complete Video Course
Please select required options above
CompTIA Network+ N10-007 Complete Video Course is a comprehensive training course that brings CompTIA Network+ exam topics to life through the use of real-world demonstrations, animations, live instruction, and configurations, making learning these foundational networking topics easy and fun.
Best-selling author, expert instructor, and double CCIE Kevin Wallace walks you through the full range of topics on the CompTIA Network+ N10-007 exam, including protocol reference models; network devices, topologies, and services; WAN technologies; network cables and connectors; network design; LAN technologies; network addressing and routing; unified communication; virtualization; network security; and network maintenance. This unique product contains multiple types of video presentations, including live instructor whiteboarding, real-world demonstrations, animations of network activity, dynamic KeyNote presentations, doodle videos, and hands-on router and switch CLI configuration and troubleshooting in real lab environments, enabling you to learn both the concepts and the hands-on application.
The 200+ videos contained in this product provide you more than 17 hours of instruction. Modules are divided into easy to digest lessons and conclude with summaries and interactive module and glossary quizzes to help assess your knowledge. In addition to the review quizzes, the product also contains interactive exercises to help you truly learn the topics in each module. The product concludes with a series of lessons that give you valuable advice to help prepare for the actual exam. In addition to the review activities embedded in the video, this Premium Edition comes complete with 2 full practice exams that can be run online or offline in the Pearson Test Prep practice test software.
Designed to take you inside Network+ concepts in a unique and interactive way, CompTIA Network+ N10-007 Complete Video Course is guaranteed to help you master the foundational networking topics that will help you succeed on the exam and on the job.
Skill Level
Beginner
What You Will Learn
Fundamental networking concepts, such as protocol reference models, network devices and theory, network topologies, and network services
WAN technologies including ISDN, Frame Relay, PPP, MPLS, Metro-Ethernet, and more
How to work with different network cables and connectors
Network design considerations
Switch and wireless LAN configuration
IPv4 and IPv6 addressing
Routing fundamentals including RIP, OSPF, IS-IS, and BGP routing protocols; HSRP and VRRP; route aggregation; and routing metrics
Unified communications, Voice over IP (VoIP), video, and QoS
Virtualized devices, storage area network technologies (SAN), and cloud technologies
Network security attacks, vulnerabilities, policies, defenses, and counter-measures
Network monitoring tools and analysis, configuration management, and best practices
Network troubleshooting
Who Should Take This Course?
Anyone interested in obtaining their CompTIA Network+ certification or anyone interested in learning basic networking concepts, configuration, and troubleshooting skills.
Course Requirements
Although this complete video training product does not assume any prior knowledge of network administration or configuration, you should understand the fundamental purposes of a network and be comfortable working with a computer.
Part 1: Fundamental Networking Concepts
Module 1: Protocols and Reference Modules
1.1 The OSI Model
1.2 The DoD Model
1.3 IP, ICMP, UDP, and TCP
1.4 Protocol Data Units (PDUs)
1.5 Maximum Transmission Unit (MTU)
1.6 Port and Protocols
1.7 Module 1 Review
Glossary Flash Cards
Module 1 Quiz
Module 2: Network Devices and Theory
2.1 Analog Modems
2.2 Hubs. Switches, and Routers
2.3 Collision Domains
2.4 Broadcast Domains
2.5 CSMA/CD vs CSMA/CA
2.6 Wireless Access Points
2.7 Firewalls
2.8 Firewall with a DMZ
2.9 Intrusion Detection Devices
2.10 VPN Concentrators
2.11 Load Balancers
2.12 Advanced Filtering Appliances
2.13 More Network Appliances
2.14 Module 2 Review
Module 2 Quiz
Glossary Flash Cards
Module 3: Network Topologies
3.1 Star
3.2 Mesh
3.3 Ring
3.4 Bus
3.5 Logical and Physical Topologies
3.6 Point-to-Point
3.7 Point-to-Multipoint
3.8 Hybrid
3.9 Client-Server
3.10 Peer-to-Peer
3.11 LAN
3.12 WAN
3.13 MAN
3.14 CAN
3.15 PAN
3.16 WLAN
Module 3 Review
Module 3 Quiz
Glossary Flash Cards
Module 4: Network Services
4.1 Virtual Private Networks
4.2 Dynamic Multipoint VPNs
4.3 Web Services
4.4 Voice Services
4.5 DHCP
4.6 DNS
4.7 NAT
4.8 NTP
4.9 SDN
4.10 IoT
4.11 SIP Trunks
Module 4 Review
Module 4 Quiz
Glossary Flash Cards
Module 5: WAN Technologies
5.1 Packet Switched vs. Circuit Switched Networks
5.2 Cellular Technologies
5.3 Frame Relay
5.4 ATM
5.5 Satellite
5.6 DSL
5.7 Cable
5.8 PPP
5.9 PPPoE
5.10 Leased Lines
5.11 ISDN
5.12 MPLS
5.13 Metro-Ethernet
Module 5 Review
Module 5 Quiz
Glossary Flash Cards
Module 6: Network Cables and Connectors
6.1 Copper Cables
6.2 Fiber Cables
6.3 Copper Connectors
6.4 Fiber Connectors
6.5 Media Converters
6.6 Transceivers
6.7 Termination Points
6.8 Cabling Tools
6.9 EIA-TIA 568 Standards
6.10 Straight-Through vs. Crossover Cables
6.11 Ethernet Standards
Module 6 Review
Module 6 Quiz
Glossary Flash Cards
Part 2: LAN Technologies
Module 7: Ethernet Switch Operation
VLAN Theory (7.1.0)
Trunking Theory (7.2.0)
Power over Ethernet (7.3.0)
SPANNING TREE PROTOCOL (7.4.0)
Introduction to STP (7.4.1)
STP Port States (7.4.2)
STP Practice Exercise (7.4.3)
STP Convergence Times (7.4.4)
STP Variants (7.4.5)
Port Mirroring (7.5.0)
Distributed Switching (7.6.0)
Jumbo Frames (7.7.0)
Module 7 Review (7.8.0)
Module 7 Quiz
Glossary Flash Cards
Module 8: Wireless LAN Operation
Introduction to Wireless LANs (WLANs) (8.1.0)
WLAN Antennas (8.2.0)
Wireless Range Extenders (8.3.0)
WLAN Frequencies and Channels (8.4.0)
WLAN Standards (8.5.0)
SOHO Wireless Router Setup (8.6.0)
Module 8 Review (8.7.0)
Module 8 Quiz
Glossary Flash Cards
Part 3: Network Addressing and Routing
Module 9: Network Addressing
MAC Addresses (9.1.0)
IPV4 ADDRESSES (9.2.0)
Binary Numbering (9.2.1)
IPv4 Address Formatting (9.2.2)
Address Classes (9.2.3)
Private vs. Public IPv4 Addresses (9.2.4)
IPv4 Unicast (9.2.5)
IPv4 Broadcast (9.2.6)
IPv4 Multicast (9.2.7)
The Need for Subnetting (9.2.8)
Calculating Available Subnets (9.2.9)
Calculating Available Hosts (9.2.10)
Subnetting Practice Exercise #1 (9.2.11)
Subnetting Practice Exercise #2 (9.2.12)
Subnetting Practice Exercise #3 (9.2.13)
Calculating Usable Ranges of IPv4 Addresses (9.2.14)
Subnetting Practice Exercise #4 (9.2.15)
Subnetting Practice Exercise #5 (9.2.16)
Classless Inter-Domain Routing (CIDR) (9.2.17)
IPV6 ADDRESSES (9.3.0)
IPv6 Address Format (9.3.1)
Shortening an IPv6 Address (9.3.2)
IPv6 AddressPractice Exercise (9.3.3)
Global Unicast (9.3.4)
IPv6 Multicast (9.3.5)
Link Local (9.3.6)
Unique Local (9.3.7)
Loopback (9.3.8)
Unspecified (9.3.9)
Solicited-Node Multicast (9.3.10)
EUI-64 (9.3.11)
Autoconfiguration (9.3.12)
IPv6 Traffic Flows (9.3.13)
STRATEGIES TO SUPPORT BOTH IPV4 AND IPV6 (9.4.0)
Dual Stack (9.4.1)
Tunneling IPv6 Through an IPv4 Network (9.4.2)
IP Address Management (IPAM) (9.4.3)
Module 9 Review (9.5.0)
Module 9 Quiz
Glossary Flash Cards
Module 10: Routing Fundamentals
10.1 Routing Protocols
10.2 Packet Flow in a Routed Network
10.3 RIP
10.4 OSPF
10.5 EIGRP
10.6 BGP
10.7 Route Redistribution
Module 10 Review
Module 10 Quiz
Glossary Flash Cards
Part 4: Advanced Networking Concepts
Module 11: Unified Communication Fundamentals
11.1 Voice over IP
11.2 Video over IP
11.3 Unified Communications
11.4 QUALITY OF SERVICE (QOS)
11.4.1 Overview of QoS Mechanisms
11.4.2 QoS Markings
11.4.3 Traffic Shaping and Policing
Module 11 Review
Module 11 Quiz
Glossary Flash Cards
Module 12: Virtualization Fundamentals
12.1 Virtualized Devices
12.2 Virtual IP
12.3 Storage Area Network (SAN) Technologies
12.4 Using InfiniBand for SANs
12.5 Cloud Technologies
12.6 Accessing Cloud Services
Module 12 Review
Module 12 Quiz
Glossary Flash Cards
Module 13: Network Security
General Security and Availability Issues (13.1.0)
Common Network Attacks (13.2.0)
Unauthorized Access Attacks (13.3.0)
Common Defense Strategies (13.4.0)
Switch Port Defense (13.5.0)
Access Control Lists (13.6.0)
Wireless Security Options (13.7.0)
AAA (13.8.0)
User Authentication (13.9.0)
Physical Security (13.10.0)
Forensic Concepts (13.11.0)
Device Hardening (13.12.0)
Mitigating Network Threats (13.13.0)
Module 13 Review (13.14.0)
Module 13 Quiz
Glossary Flash Cards
Part 5: Networking Maintenance
Module 14: Network Monitoring Tools and Analysis
Device Monitoring Tools (14.1.0)
SNMP (14.2.0)
Remote Access Methods (14.3.0)
Environment Monitoring (14.4.0)
Wireless Network Monitoring (14.5.0)
Module 14 Review (14.6.0)
Module 14 Quiz
Glossary Flash Cards
Module 15: Network Best Practices
Safety Procedures (15.1.0)
Wiring Management (15.2.0)
Power Management (15.3.0)
Rack Management (15.4.0)
Change Control (15.5.0)
High Availability (15.6.0)
Disaster Recovery (15.7.0)
Standards, Policies, and Rules (15.8.0)
Documentation (15.9.0)
Module 15 Review (15.10.0)
Module 15 Quiz
Glossary Flash Cards
Module 16: Network Troubleshooting
7-Step Troubleshooting Methodology (16.1.0)
CLI Troubleshooting Utilities (16.2.0)
Common LAN Issues (16.3.0)
Common Wireless LAN Issues (16.4.0)
Common Network Service Issues (16.5.0)
Module 16 Review (16.6.0)
Module 16 Quiz
Glossary Flash Cards
Final Preparation
Final Preparation (17.0.0)
How to Register for the Exam (17.1.0)
Study Strategies (17.2.0)
What to do on Exam Day (17.3.0)
Final Preparation Review (17.4.0)
Over 17 hours of video instruction.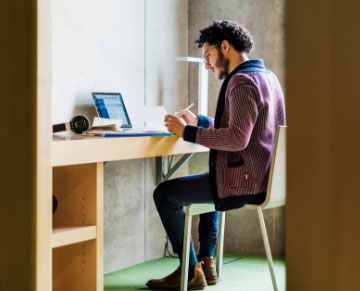 VIDEO TRAINING
Watch and learn with Pearson Video
Today's competitive job market demands more from IT professionals. Pearson's Video training library is an indispensable tool that makes it simple for organizations to upskill employees, teach students or expand the training offerings they sell to their own customers. Our self-paced online videos are designed by leading experts and cover hundreds of essential IT topics.